POLICE AWARDS
Davis & Stanton is happy to provide you with the Police Awards you are looking for.
Please contact us to learn more, or feel free to order by mailing or faxing in this


Police Awards Division
(Police, Fire and Security Uniform Commendation Bars)
Davis & Stanton's Police Awards Division has been providing commendation bars for over 50 years and is recognized as the quality leader in this field. These 1 3/8" x 3/8" colorful bars are durable and of the highest quality with two needle posts and spring-loaded clutches on the back. They are guaranteed to be free of defects in workmanship and material. Stock bars are usually shipped within one week after receiving your order. Back orders ship within four to six weeks.

Bar holders are also available. These are ideal for aligning and mounting two to nine bars either 2-wide or 3-wide. Star and numeral mountings for repeat recipients are also available.

Color changes are available as a special order with a minimum initial quantity of fifty bars or more in each color scheme. Allow six weeks if no new tooling is required. We welcome inquiries for special designs which may require new tooling. New dies of the same size are approximately $300.00 and require a minimum initial order of 100 bars. Please allow eight to ten weeks for special bars on the initial order.

Bars start at $9.00 each plus shipping. A check, money order or credit card information must accompany individual orders. All department orders may be shipped and invoiced upon receipt of a purchase order or official letter giving shipping and billing instructions.
All of our bars are proudly
Pricing and Order Information
Commendation Bars
Other Items
Quantity
Price
Item
Price
1-9 Bars
$10.00 ea.
2-Bar Holders
$6.00 ea.
10-49 Bars
$9.00 ea.
3-Bar Holders
$7.00 ea.
50-99 Bars
$8.00 ea.
4-Bar Holders
$8.00 ea.
100-199 Bars
$7.50 ea.
5-Bar Holders
$9.00 ea.
200-299 Bars
$7.00 ea.
6-Bar Holders
$10.00 ea.
300+ Bars
$6.50 ea.
7-Bar Holders
$10.00 ea.
8-Bar Holders
$11.00 ea.
Stock Medals
9-Bar Holders
$12.00 ea.
Y121
Medal of Valor
$35.00 ea.
Stars
$2.00 ea.
Y221
Medal of Honor
$35.00 ea.
Numerals
$2.00 ea.
Y321
Cross
$45.00 ea.
Extra Clutches
$0.50 ea.
Y421 Purple Heart
$35.00 ea.
Y521 Gold Purple Heart
$65.00 ea.
Please remember the following information when ordering:
Item Numbers
Quantities
Purchase Order Number
Ship To Address (including Attn:)
Bill To Address (including Attn:)
Bar Holders
Our bar holders are constructed from a polished strip of durable brass with recessed areas specifically designed to fit the commendation award bars. The alignment bars also have holes to accomodate the pinette needles on the award bars.
The commendation bars can easily be mounted in the holders in a semi-permanent way with either a drop of epoxy or a narrow strip of double-sided tape. Research shows that a drop or two of 2-part epoxy glue works best.
To better serve you, we now have available both 2-wide and 3-wide configurations to fit everything from 2 to 9 commendation bars. All of them are shown below:
1202 - 2-Bar Holder
1203 - 3-Bar Holder - 2-wide
1303 - 3-Bar Holder - 3-wide
1204 - 4-Bar Holder - 2-wide
1304 - 4-Bar Holder - 3-wide
1205 - 5-Bar Holder - 2-wide
1305 - 5-Bar Holder - 3-wide
1206 - 6-Bar Holder - 2-wide
1306 - 6-Bar Holder - 3-wide
1207 - 7-Bar Holder - 2-wide
1307 - 7-Bar Holder - 3-wide
1208 - 8-Bar Holder - 2-wide
1308 - 8-Bar Holder - 3-wide
1209 - 9-Bar Holder - 2-wide
1309 - 9-Bar Holder - 3-wide
Stock Commendation Bars Information
All of our bars are made in America, die-struck in jewelers brass, enamel-filled and protected by an epoxy dome. Bars are individually bagged to help ensure quality upon receipt by customer.
Please be aware that the size and color you see onscreen may not match actual product due to the fact that all monitors are different. The actual size of the bars is 1 3/8" x 3/8". The images you see are computer drawings of the bars, which enables you to see the detail of the bars in utmost clarity. This is done because the epoxy dome on the bars creates a glare during the scanning process.
The Q816, R117, S118 and other similar bars are stocked in the following numbers: 1, 2, 3, 4 and 5 thru 40 in 5-year increments.
The Shooting Bars (J209 - J609) are all available in either green or navy.
The Q216, Q226, Q236 & Q246 are also available in navy w/gold stars.
Various other bars are available in colors that aren't shown here. Just ask!
Specially Designed Commendation Bars
Customized commendation bars are sometimes required.
Sometimes this involves simply changing the color scheme of an existing stock item. This is the easiest way to make a custom bar for your department, and it involves only a minimum first order of 50 bars. Once the first order has been placed, subsequent orders may be of any quantity. Please allow 4-6 weeks for delievery of custom-colored bars.
The U140 was designed to allow for easy customization without a die charge. Up to 4 letters/numbers may be engraved in the center oval and color schemes changed with a minimum order of 25 bars.
There are times when the stock designs will not fit a particular need. It is then that a new die will need to be designed and created. New dies of the same size as our stock bars are approximately $300.00 and require a minimum first order of 100 bars. Please allow 8 to 10 weeks for delivery of these specially designed bars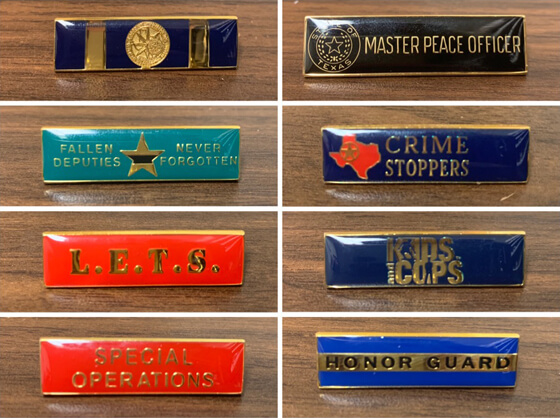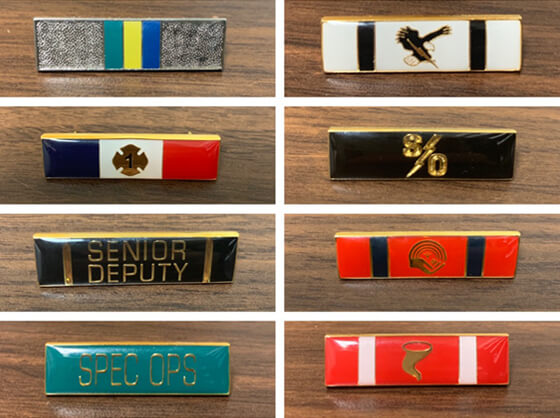 To Order:
Call or Fax
Phone (214) 340-1321
Toll Free (800) 222-2593
Fax (214) 340-1388
Email
Write
Davis & Stanton
Police Awards Division
1400 S. Sherman Street, Suite 112
Richardson, TX 75081